Receive the highest quality service and protect the value of your car with Factory Authorized Dealer Service at Lamborghini San Francisco.
» Factory Authorized Service
» Factory Trained
» Factory Parts and Accessories
» Factory Diagnostics and Tools
» Protect the Value of Your Lamborghini

Each Lamborghini is a technological masterpiece, the sum of thousands of individual parts and the result of countless hours of dedicated work from more than 700 employees - all of whom have contributed to making it what is is: an exceptional super sports car that delivers a phenomenal driving experience. Dealership service safeguards each vehicle with the same amount of passion.

"Call it Love. Call it Fanaticism. We call it Passion for Detail."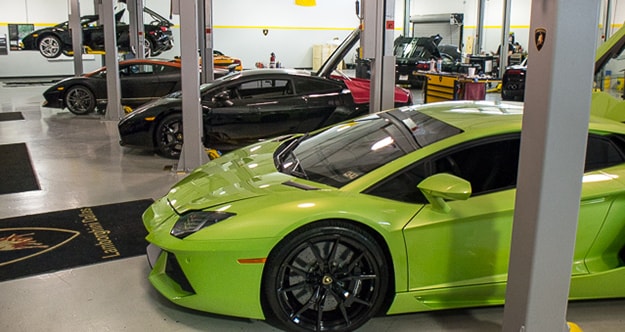 Directly Connected to Automobili Lamborghini »
We're not just familiar, we're family. When we call the factory in Sant'Agata Bolognese we're on a first-name basis. We're the first to know and the most informed about any service for your Lamborghini. Regular maintenance, performance upgrades, and style options: We will help protect the value of your car. 
While not much can keep up with a Lamborghini on the road, we keep up with every detail here.
// Factory Authorized Service
// Factory Recalls
// Upgrades
// Options
// Accessories
Factory Trained Technicians »
We don't have a secret weapon or an expert with the ability to take on any challenge. We have three. Brian, Keith, and Mark not only have more than 25 years of experience, they specialize in the Lamborghini Brand with ongoing factory training. As the number of electrical and electronic components increases from one model to the next, factory training ensures these systems help technicians in their work - which is becoming ever more demanding on account of its increasing complexity.
Factory Parts and Accessories »
Our parts department is on-point. In fact, people around the world call us for our superior knowledge and the best selection of parts. Lamborghini San Francisco
 is passionate about every model from Lamborghini. We work diligently to keep the parts you need available when needed and offer a full selection of accessories to make the most of your driving experience.
Factory Diagnostic Systems and Tools »
Having the latest diagnostics systems and ongoing direct communication with Automobili Lamborghini helps improve maintenance work and reduce the length of time it takes. Each Lamborghini is crafted to deliver a unique experience, and each one requires a particular set of skills and specialized tools from the factory. 
Protect the value of your Lamborghini »
Love your Lamborghini like we do. Lamborghini 
San Francisco
 not only delivers the confidence of dealership quality, but the performance of factory authorized service and parts. Maintaining the mechanics and value of each super sports car is part of our passion and love for the Lamborghini brand. 
As each car delivers a phenomenal driving experience, Lamborghini 
San Francisco
 delivers a phenomenal ownership experience.
Lamborghini 
San Francisco
Assistenza Technica
// Authorized Service Automobili Lamborghini
Call 888-379-8871